How to Use Gratitude
to Attract What You Don't Yet Have
Downloadable Audio Program
Marilyn Jenett
From Marilyn Jenett
Los Angeles, CA

You and I have much to be grateful for but there are many people whose life experiences are keeping them from tapping their mental and spiritual resources and they are stuck in survival mode. Just having a lifejacket to land them on firm ground may be all that is needed to bring new hope and purpose to their lives.

I believe that the universal laws and prosperity teachings ARE that lifejacket. They were MY lifejacket years ago when I was kicking and screaming at the Universe for help and I was guided to my firm foundation.

I can think of no better way to help others than to offer them my knowledge of the laws. For many people, the holidays are not the most joyous time – statistics show this – but it's especially true when there is a lack of finances and supply.

The first Thanksgiving Gratitude Call was a special teleclass program that I conducted for Thanksgiving in 2004 and again in 2009. This is considered one of my most compelling calls, not only because of the content and the heartwarming feedback and response it generates, but because it has created wonderful results for the participants, such as those you will find below.

This call will be a great boost for YOUR prosperity - whether you need encouragement and are just beginning to use the prosperity laws and or if you have achieved success but want more tools to expand.
Introduction
Gratitude:
Thankfulness
Thankfulness:
Conscious of benefit received; for what we are about
to receive; expressive of thanks; well-pleased
The "attitude of gratitude" is one of the greatest – perhaps THE greatest – spiritual principle that can be applied to attain happiness, inner peace, health and financial prosperity. It is easy to be grateful for what you already have. But can you be grateful for what you don't yet see?

Now faith is the substance of things hoped for, the evidence of things not seen.

– Hebrews 11:1
On this call, we discuss how gratitude is your precursor to the evidence of "things not seen" and how you can acquire gratitude when there are appearances to the contrary. You will learn an aspect of gratitude that is not commonly known – using the powerful principle of gratitude to attract what you don't already have. If you apply it, it will change your circumstances dramatically, often at an astounding speed.
Highlights
Gratitude For What You Don't Have?

Gratitude is one of the greatest prosperity principles that can be applied to every part of our lives. Only we're not just going to talk about the philosophical aspect of gratitude. I'm going to address gratitude from a practical standpoint. I am going to help you understand the relationship of gratitude to "affirmative prayer," which is actually scientific prayer, and I will explain why.

We all know how to feel grateful for the blessings we have in life. But I want to teach you how you can feel grateful for those things you don't have and don't see yet and as a result draw them to you. How can you acquire gratitude when there are appearances to the contrary? You'll learn how.
Gratitude As The Magnet

The subconscious mind will create for us and attract to us those circumstances that it accepts to be true in the present moment. That is its nature. It's compulsive. Our job is to condition our subconscious mind to accept what we want as if it's an existing reality. Tomorrow never comes. It is always the present moment or now in consciousness. When what we call later or tomorrow arrives, it will actually still be the present moment. It is always NOW. And what we are thinking and feeling NOW is what determines our future, its outcomes and experiences. We create that future right this moment.
Gratitude is one of the surest ways to bring your desires into the present moment. It is the magnet that reaches out into Universal Mind and pulls our good to us. It is our bridge between our desire and its manifestation. Gratitude is the umbilical cord that connects us to our Universal parent. If you will replace any doubtful thoughts or begging prayers with a heart full of gratitude, you will be thrilled at how fast you'll learn to manifest your desires.
Faith is to believe what you do not see
and the reward of this faith is to see what you believe.

– St. Augustine

Mental and Spiritual Principles

On the call, I discuss mental and spiritual principles and their relationship to the powerful principle of gratitude.

I will have you choose, along with the list of things in life for which you are grateful, things in your life that you are not grateful for. You will learn how to use the gratitude principle combined with affirmative prayer to turn those very situations around by expressing gratitude for the solutions before they appear. Bringing the desired result into the "now" moment by using the gratitude principle speeds our desired good to us.

As you listen to this compelling call, sit back, relax, and enjoy the knowledge and interaction with the participants. I promise you will leave the call with life-changing information. It's a long call, but worth every moment.
If the only prayer you say in your life is "thank you," that would suffice.
– Christian Mystic Meister Eckhart
Program Details
What You Will Receive
Preparation for the Gratitude Call
This special document in pdf format will put you in the perfect state of gratitude to begin to receive your prosperity in all its forms.



mp3 Audio Recording of the 2.5-hour Teleclass
The recorded interactive class session will provide you with a clear understanding of the principles. You will leave the call with information that will transform your life.



Bonus Items
You will also receive bonus items that include affirmations and links to articles discussed on the call.


What Students Say

My favorite holiday is Thanksgiving. You never know who will be at my house on Thanksgiving! Often people whom I haven't seen in years find themselves invited for Thanksgiving dinner – we've had an off-Broadway actor and a Minnesota Viking fan. I am always thankful for my friends and family and for our blessings and love to share my gratitude with those I know and care for.

Around Thanksgiving 2004, my friend Rasheed introduced me to Feel Free To Prosper. Marilyn Jenett had a Gratitude conference call at that time and Rasheed told me he thought I'd find it beneficial.

Well, Rasheed's invitation to Marilyn's Gratitude Call has given me much to be thankful for. She has reminded me how much gratitude resonates within me. After the call I started to practice the things Marilyn discussed. Within a few weeks wonderful things started to happen. First my real estate taxes were lowered, then my Federal income tax was lowered.

In early 2005, I signed up for lessons and the Feel Free To Prosper program. And 2005 was a wonderfully prosperous year! After applying Marilyn's lessons, I received a promotion at work. Along with the promotion came a sizable salary increase (double digits!). I received many offers and presents out of the blue that year. Now, 2006 is just nine days old and I have received a payment from a business that included my principle investment plus 44% profit – just 21 days after I made the investment.

For all of this I am thankful to God, Marilyn, and Rasheed. Marilyn, you and your prosperity lessons are wonderful. Thank you for helping make Thanksgiving last all year!

Kevin Higgins
Houston, TX




Thank you, Marilyn

Marilyn, I thank you for being You and caring so much about all of us that you took the time out of your busy schedule to make sure we're all doing well and prospering. You know, you are really something else! And we love you for that!!

I got so much out of the call tonight. The call truly reinforced the feeling within me that I am always taken care of and that my supply is limitless and all I need do is trust the universal laws and KNOW that all is well…and so it is.

I KNOW ALL WHO LISTEN TO THIS WILL BENEFIT IMMENSELY. It would certainly be an incredible Thanksgiving gift for all to post it to the world.

Ulrika Jensen
Canada





Hi Marilyn,



I listened to the entire call on Thanksgiving...

It was a great reminder to go back to Feel Free to Prosper Lessons One and Two again (which I started one year ago).

Also, I had been asking the Universe for some guidance on the subject of teaching, which seems to be an important part of my newly evolving career....and lo and behold, listening to your call, I received some unexpected guidance from the personal issue discussions you had towards the end of the call.

Your call inspired me to be brave, remember my mission, and step out and do my life's work in MY OWN UNIQUE WAY, using the Universe as my marketer.

Marilyn, thank you so much for being who you are and for what you do. You are such an inspiration to me.

Many love and light blessings to you,

Judy Anne
New York, NY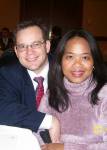 Dear Marilyn,



I was honoured to be on the Gratitude Call last night and for receiving your personal attention. My wife was listening to the call as well though we had to remain muted most of the time because of the kids. We were introduced to your teaching through hearing an audio interview with Troy White and I felt like the light came on in regards to some of the concepts around dominant thought and affirmations. It is a real blessing to us to have your mentoring.

Thank you so much Marilyn. I look forward to receiving your call or email. Happy Thanksgiving!

Tai and Rebecca Krahn
British Columbia, Canada
www.pgnannies.com

(Tai and Rebecca became Feel Free to Prosper students after the call and are manifesting new clients regularly for their business.)



The Gratitude Call



Hi Marilyn,



I was one of the "silent" listeners on the call last night and I wanted
to take a moment to Thank You.

Affirmative prayer is not new to me after having read/studied Science
of Mind, Napoleon Hill, Wallace Wattles, etc., etc. However, three
items that you spoke of last night resonated profoundly with me.

1. The connection between Source and "now".

2. The connection between #1 above and - how do I create the feeling of 'already having it." Gratitude.

When you talked about these two items, I quickly reviewed my list of 20 things I'm grateful for that you asked us to prepare, and I realized
that none of the items I desired were on that list. Only the things I
already have.

I now believe that you have unlocked the 'key' for me. And I am forever
Grateful. Thank You. Thank you for your time, your wisdom, and your
sharing.

Sincerely, Cheryl Britton
British Columbia, Canada



Dear Marilyn,

I attended the call, Karen from Singapore. I am so grateful for all you have done for all of us...the call is so full of useful information you gave and the knowing of the Universal Laws is so important to me. You let me know that as long as I don't have what I want in my mind, I will always continue to not have what I want...this is so profound for me.

Thank you so much Marilyn. I really appreciate it very very much.

Best regards,

Karen Foo
Singapore


More testimonials at the Testimonials section of the website.
My Guarantee!
I am confident that you will experiences the benefits of this program. Because of the very low investment for the great value and content of this program, and because this is a completely digital product, no refunds will be granted. I want you to purchase the program only if you are truly ready for change and are willing to apply the teachings.
However, if you don't find the program to be of great value as promised, let us know within 30 days of your purchase. I'll be happy to give you a full credit toward any other Feel Free to Prosper product.